Article Options
Mark as New

Mark as Read

Bookmark

Subscribe

Email to a Friend
I'm a Group Admin. How do I manage my Group?
Question
I'm a Group Admin. How do I manage my Group?
Answer
If you're a Group Creator or Admin, there are plenty of tools at your disposal for Managing your Group. You can update Group information, block users, add other Members as Admins, police the posts in your Forum, and more.
To begin Managing your Group:
Hover your mouse over More in the top navigation bar then click Groups. Next click My Groups.


Click on a Group in which you have Admin privileges

On the Group page, click the "Manage Group" link in the top right corner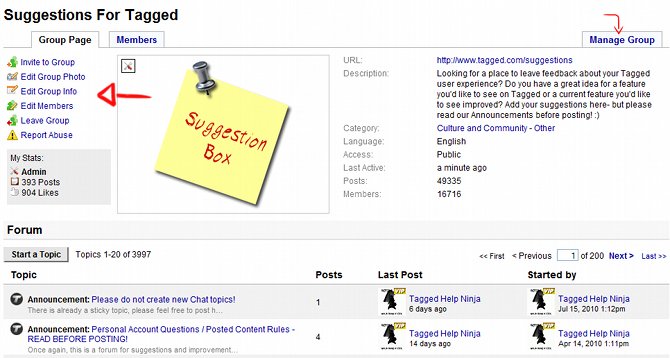 On the Manage Group page you'll see a bunch of links to help you manage your Group efficiently. These tabs include: Group Photo, Basic Info, Manage Members, Join Requests (only visible if your Group is private),Reported Posts and Blocked Users.
To Change or Edit your Group Photo:
Click the Group Photo link (Note: This can also be accessed by clicking the "Edit Group Photo" action on the main Group page)

Add a photo from one of the three upload options - my computer, image URL or Photo gallery

(Optional) Use the marquee tool to select a thumbnail area, then click the "Save Thumbnail" button

Click the "Save" button to update your Group Photo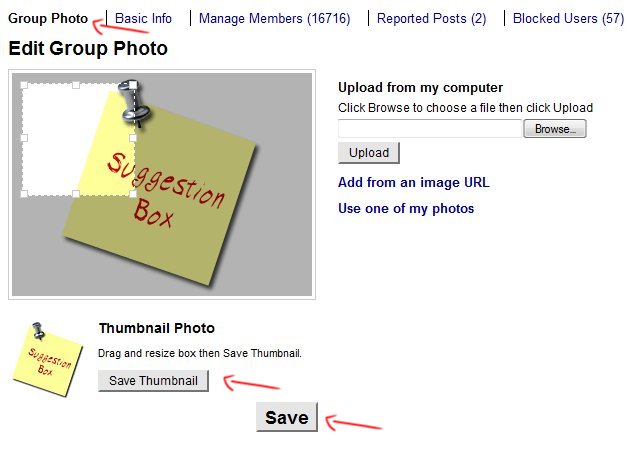 To Edit your Group Information:
Click the "Basic Info" link (Note: This can also be accessed by clicking the "Edit Group Info" action on the main Group page)

Update any necessary info (Group Name, Access, Description, Category, Language, Intended For)

Click the "Save" button to update your Group Information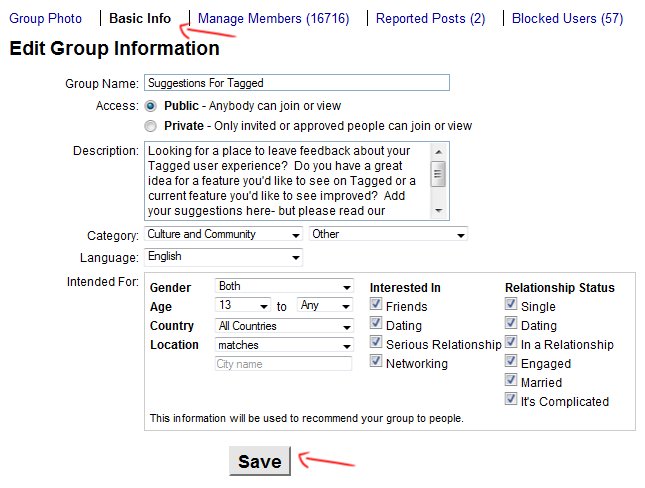 Click the "Manage Members" link (Note: This can also be accessed by clicking the "Edit Members" action on the main Group page)

If necessary, use the Filters (Admin, #, ABC's) and navigation links to find the Member(s) you wish to manage

Move your mouse cursor over the specific Member's profile thumbnail to display the '+/- 1' and 'x' icons

If you wish to block a member, click the 'x' icon to add them to your Group's Blocked Users list. If you wish to promote a member to Admin status, click the '+1' icon. If you're the Group Creator, you can also demote an Admin back to Normal user status by clicking the '-1' icon. (Note: Admin Members will have a green background on their photo thumbnails.) These actions are saved instantly, so there is no need for a "Save" button on this page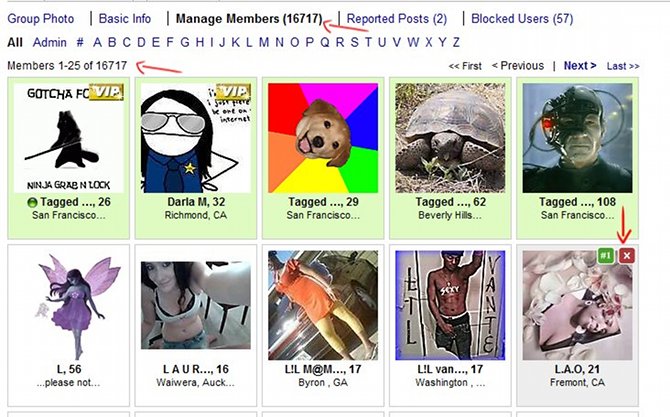 To Respond to Group Join Requests:
Click the "Join Requests" link [Note: If there is a number (e.g. "3") on your "Manage Group" tab, this indicates that your Group has pending Join Requests. This will only appear if your Group is private. ]

Use the "Accept" or "Reject" buttons to respond to individual Join Requests. If you wish to Accept multiple Join Requests at once, use the single checkboxes on the left or the "check/clear all" checkbox above the Requests to select the specific Requests, then click the "Accept Checked" button

You can also use the "Send Message" link in any Join Request to communicate with a user who is requesting to join your Group, unless they have a private profile

To View a list of Reported Posts:
Click the "Reported Posts" link

View any Reported Post. You can also use the Topic link below the post's content to view the topic where this post appears

Use the "Approve" or "Delete" buttons to take action on the post. You can also use the "Send Message" link to communicate with the user, unless they have a private profile. If you wish to block them, click the "Block User" link to add them to the Group Blocked Users list. (Note: The "Block User" link will not appear for users who have already been added to the Group Blocked Users list.) After blocking a user, you will also have the option of deleting ALL of their Forum posts from your Group in the green dialogue box that appears below the action buttons. Admins can also delete posts, block users and delete all of a user's posts by hovering over a user's post on any Forum Topic page and using the corresponding links that appear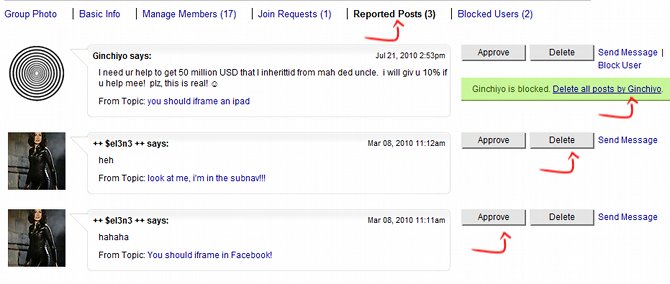 To View your Group's Blocked Users list:
Click the "Blocked Users" link

Below each user's photo, you can either click the "Unblock User" link to remove them from the Blocked Users list or click the "Delete All Posts" link to remove ALL of their posts from your Group's Forum